Has a very small, unique magnet which can be placed with pin-point accuracy on extremely small parts, and on peaks and valleys. Ideal for measuring non-magnetic coatings such as paint, enamel, plating, hot-dip galvanizing on steel.
Operating The PosiPen
Make sure the surface to be measured is clean and free from oil and grease. Hold the PosiPen at a right angle to the surface to be measured. Place the tip of the gauge on the coated surface and allow the magnet to contact.
Pull it straight back from the object while keeping close watch on the appropriate indicator. Note the reading when the magnet releases. Repeat if necessary.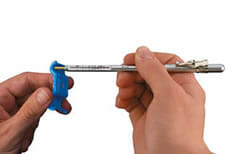 PosiPen measures:
on hot surfaces
on small surfaces
in different positions
Manufactured in three versions:
Model A for measurements on surfaces with normal temperatures
Model B for measurements on surfaces with extreme temperatures (between -100°C and +230°C)
Model C ferrite comparator
Models A and B have two scales, microns (metric) and mils (inch)

Range: 0.25 to 20 mils (inch)
Tolerance ±10% and 0.1 mil
Range: 5 to 500 microns (metric)
Tolerance ±10% and 2.5 microns
Models A and B are calibrated to NIST calibration standards.
Ferrite Comparitor
Some objects become excessively magnetic. For example 300 series stainless steel is non-magnetic but becomes
magnetic over time. Certain welding seams become magnetic compared to the surrounding metal. Model C allows you to
compare ferrite content to a known value.
Model C has two scales:

Ferrite content measuring range: 0-10 linear units to compare Ferrite content to an known value

Coating thickness measuring range: 0.25 to 20 mils (inch scale) Tolerance: +10% and +0.1 mil
PosiPen Video
Prices
| | | | | | | |
| --- | --- | --- | --- | --- | --- | --- |
| | Model A | | Model B | | PosiPen C | |