PosiTector UTG Ultrasonic Thickness Gauge
The Ultrasonic Thickness Gauge (UTG) ultrasonically measures the wall thickness of materials such as steel, plastic and more. Ideal for measuring the effects of corrosion or erosion on tanks, pipes or any structure where access is limited to one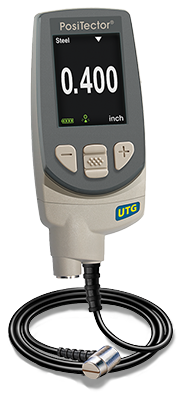 Simple
Large, easy-to-read, graphics LCD
Pre-programmed velocities – Simply select from a list of common materials or enter your own with ease
Smart Couple™ – Eliminates inadvertent decoupling – ideal for analyzing large areas using multiple passes
Enhanced one-handed menu navigation
Flashing display — ideal in a noisy environment
RESET feature instantly restores factory settings
Durable
Solvent, acid, oil, water and dust resistant – weatherproof
Impact resistant lens
Wear-resistant probe tip
Shock-absorbing, protective rubber holster with belt clip
Two year warranty on gauge body AND probe
Accurate
Precision ultrasonic transducers provide fast, accurate readings
Certificate of Calibration (Long Form) showing traceability to NIST included
Conforms to national and international standards including ASTM E797
Built-in temperature compensation ensures measurement accuracy
Versatile
High contrast LCD with backlit display
Single or two point adjustment
Inch/mm switchable
Selectable display languages
Flip display enables right-side-up viewing
Uses alkaline or rechargeable batteries (built-in charger)
Powerful
Min Scan – measurement rate of up to 20 readings per second with onscreen min and max for quick inspection over a large area
Statistics Mode continually displays/updates average, standard deviation, min/max thickness and number of readings while measuring
HiLo alarm audibly and visibly alerts when measurements exceed user-specified limits
Sealed USB Port for fast, simple connection to a PC and to supply continuous power. USB cable included
Software Updates via web keep your gage current
Screen Capture – record and save image into USB flash memory for record keeping and review
Software Solutions for viewing, analyzing & reporting data
Every stored measurement is date and time stamped
Helpful PosiTector UTG Videos
Please view our helpful instructional videos on the DeFelsko PosiTector UTG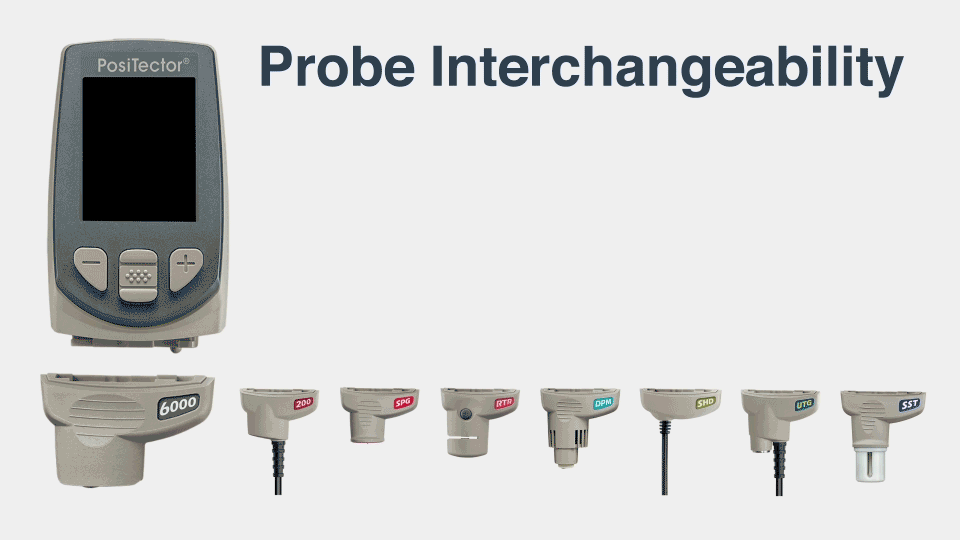 Advanced Model 
Includes ALL features as shown above plus…
Storage of 100,000 readings in up to 1,000 batches
A-Scan with adjustable Gain and screen capture
B-Scan—displays a cross sectional profile of the test material
Real-time graphing, picture prompting and batch notes
Onscreen Batch Annotation—add notes, change batch names and more with built-in QWERTY keyboard
WiFi technology wirelessly synchronizes with PosiSoft.net and downloads software updates
Bluetooth 4.0 Technology for data transfer to a mobile device running the PosiTector App or optional portable printer. BLE API available for integration into third-party software.
Specifications 

Buy now by choosing your option below. These prices are inclusive of VAT.