PosiTector SHD
The PosiTector SHD Shore Hardness Durometer is a hand held electronic gauge that measures the indentation hardness of non-metallic materials. Two models are available for different hardness ranges - Shore A and Shore D.
User-adjustable measurement time with onscreen countdown to conform to national and international standards
Auto Ignore mode disregards hardness readings below 20 and above 90 per international standards
Solvent, acid, oil, water, and dust resistant – weatherproof
PosiTector interchangeable platform – attach any PosiTector probe to a single gauge body
USB, WiFi, and Bluetooth connectivity to PosiSoft PC, Mac, and Smartphone software
Advanced Models
Includes ALL features as shown above plus…
Storage of 100,000 readings from multiple probes in up to 1,000 batches and sub-batches
Auto Sub-Batch – automatically create sub-batches after the required number of readings are taken
Live graphing of measurement data
Batch/Reading annotation—add notes and change batch names with onscreen QWERTY keyboard
Store thickness, profile, environmental, wall thickness and hardness measurements in individual batches
WiFi technology wirelessly synchronizes with PosiSoft.net and downloads software updates
Bluetooth 4.0 Technology for data transfer to a mobile device running the PosiTector App or optional portable printer. BLE API available for integration into third-party software.
Specifications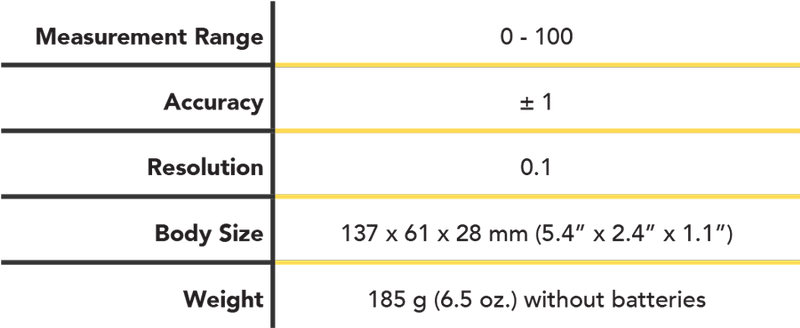 Find out more about the Shore Hardness Durometer and all the features that come with it