The Powder Checker Comb simple, easy-to-use powder thickness gauge measures the thickness of applied dry coating powder …before it's been cured!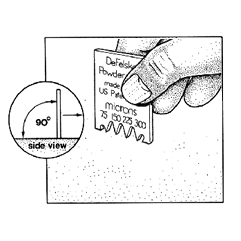 Check Powder thickness with the Powder Checker Comb before curing to help insure correct cured film thickness the first time through the line. Avoid stripping and re-coating which can cause problems with adhesion and coating integrity.
Versatility
Ideal for set-up and quality control
Works on a variety of part sizes, shapes and substrates such as metal, plastic, wood, glass, and more
Easy to carry; convenient shirt pocket size
Available in microns (metric) or mils (inch)
Quality
Broad stand-offs on both sides of teeth help keep gauge perpendicular to surface when measuring
Rugged aluminum construction for long gauge life and static control
Precision gauge; manufactured to a tolerance + 5 microns or + 0.0002 inch
Protective leather pouch included with each gauge
Simple Operation
Push the Powder Checker perpendicularly into the dry powder so that the two stand-offs (end tabs) on both sides
of the teeth rest firmly on the substrate.
Drag the Powder Checker Comb along the surface of the coated part for at least 1 centimeter
Remove the Powder Checker Comb from the surface and examine the marks left in the powder
The powder thickness is between the highest numbered tooth which made a mark and has powder clinging to it, and the
next highest tooth which left no mark and has no powder clinging to it.
Example: The 75 and 150 micron teeth both make lines and have powder clinging to them but the 225 mil tooth does
not. The uncured powder thickness is determined to be between 150 and 225 microns. (see above image)
Note – Most powders cure to approximately 50% of their dry thickness. Marks left by the gauge may affect the
characteristics of the cured film.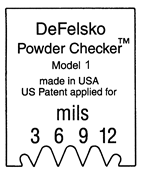 | | | | | |
| --- | --- | --- | --- | --- |
| Powder Checker Models | Height Tooth 1 | Height Tooth 2 | Height Tooth 3 | Height Tooth 4 |
| Model 1 (mils) | 3 | 6 | 9 | 12 |
| Model 2 (mils) | 10 | 15 | 20 | 25 |
| Model 3 (mils) | 20 | 30 | 40 | 50 |
| Model 4 (um) | 75 | 150 | 225 | 300 |
| Model 5 (um) | 250 | 375 | 500 | 625 |
| Model 6 (um) | 500 | 750 | 1000 | 1250 |
Powder Checker Price